---
Sætran Camping
Øksendalsvegen 412
6610 Øksendal
Mob: +47 41 42 90 45
Welcome to Sætran Camping
Sætran Camping is located in rural and beautiful surroundings with the turnoff from Highway 62 Øksendal municipality located in Sunndal and is a good starting point for mountain walks, river and sea. The camp has been run since 1972.
Sætran Camping is the place for nature lovers, fishing enthusiasts and main tourists. The season lasts from 20th june to 31th August. Reception is open between. 11:00 a.m. to 9:00 p.m
on the square, we have:
All cabins are equipped with simple kitchen utensils.
Read more about the cottages here.
---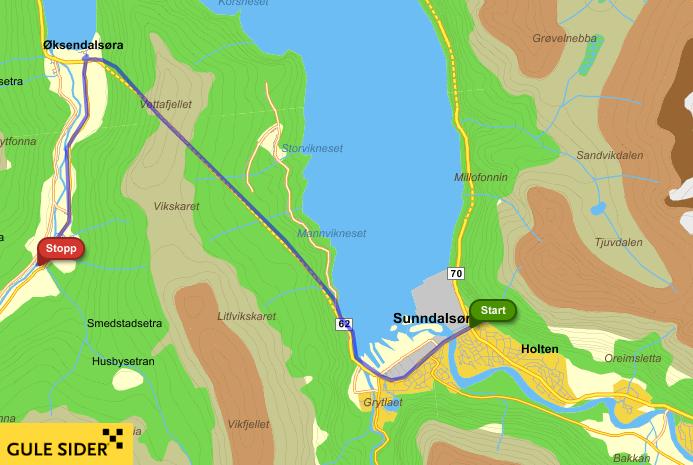 Start Location:
Roundabout in central Sunndalsøra.
Driving distance:
14 km
Run time ca:
20 min
| | |
| --- | --- |
| 1. | Start direction south-west on the Romsdalsvegen towards the Molde (Highway 62), drive 9.8 km. |
| 2. | Turn right onto øksendalsøra, drive 96 meters. |
| 3. | Hold right and proceed to øksendalsøra. Follow signs to the campsite from the abandoned grocery shop. Drive about 4.0 km. |
---
We don't accept credit cards.
---
Before you leave:
Please leave the cottage clean and tidy.
Last edited: 21.08.2021
---
Copyright © 2009-2022 - Sætran Camping - Org.nr: 984 957 173

Designed and developed by Simon Ekren Gravvold.
Page Last Edited: 28.07.2021